SWIM PROGRAM 
 I Swim for ME
Muslimahs Endure is dedicated to providing an environment where Muslimahs  and their families feel comfortable and safe pursuing an active lifestyle without compromise. Our non-profit organization centered around activities that encourage both youth and adults, to start and continue an active lifestyle regardless of ability or fitness level.
Overview
Our womeny only swim program seeks to:
Create a safe space where women and their daughters become comfortable in the water

Educate and equipe the community with life saving water safety knowledge

Revive the Sunnah of our beloved Prophet(pbuh)

Build a community of women and girls linked by a common interest of swimming
We serve women and children ages 4+ (boys 6 and under).
Our program operates year round program and offer 8-week cycles, 4- week cycles, and open swim days.
Swim Options:
Beginner Swim Lesson
Intermediate Swim Lesson
Advanced Swim Lesson (if needed)
Lap Swimming (must pass swim assessment)
First and last day of each cycle is assessment. After the first day you will be assigned your official start time, instructor, and swim level. Start times options are:
10 am or 11 am (Spring, Fall, and Winter)
8 am or 9 am (Summer)
Participants that would like to paricipate in lab swim, must be able to swim 50m unassisted.
Registration Fees
Registration fees are drafted monthly from   participants account for the duration of the cycle.
COST: 
8 Week Cycle – $150 ($75 per month for 2 months)
4 Week Cycle – $75 ( one time payment of $75)
Open Swim – one time payment
Adult(18+) – $20

Child (12+)  – $10

Child (3-12 ) – $5

Child (under 3) – Free
Refund Policy: Once first day of classes start, there will be no refunds and we will require you to make the monthly payments.  This ensures that we can cover the cost of the program.
All withdrawals must take place prior to the first day of class so that we can give your spot to someone on the waitlist.
Program Size
Our program have limited spots available each cycle. We aim for an 8:1 student to teacher ratio. Each cycle we typically have the capacity for 40-55 participants.
Location
Mountain Park Aquatic Center
1063 Rockbridge Rd SW, Stone Mountain, GA 30087
Schedule
Day: Sundays
Time:
Spring, Fall, Winter – 10 AM – 11:45 AM
Summer  – 8AM – 9:45 AM
Participants will be assigned their class time after registratoin and assessment. Each lesson last 45 minutes.
First Session: 10 AM – 10:45 AM (8 AM – 8:45 AM)
Second Session: 11 AM – 11:45 AM (9 AM – 9:45 AM)
Participants who signed up for lap swim will be assigned swim time after registration.
Calendar
Cycle 1: January 29, 2023 – March 19, 2023
Cycle 2: May 7, 2023 – June 25, 2023
Cycle 3: TBD
Cycle 4: TBD
Dress Code/Attire
Things you may need to bring (some items are optional):
Swimming attire that is comfortable, fits well, is made from DriFit or moisture-wicking material, and that you can move in. 
Good goggles that will not leak. Prescription goggles are available, check Amazon.com and swimoutlet.com. Googles are available for purchase.
Swim caps. ME swim caps are available for purchase.
Towel
Toiletries: soap, shampoo, conditioner, deodorant, lotion etc.
Flip-flop or poolside shoes. Shoes will not b allowed on the swim deck.
FAQ
Can I register at any time?
Registration is typically open only for the two weeks leading up the next cycle. Once registration closes, you will not be able to register until the next cycle.
How long will it take me to learn to swim?
Everyone is different, so the amount of time depends on various factors. One being the amount of time that you spend in the pool practicing outside of your weekly lesson. Just like anything the more you practice what your instructor share with you, the better your chances of reaching your swim goal.
Will I learn how to swim in 8 weeks?
It really depends on the person. It is a lot of factors that goes into learning how to swim as an adult. One thing that can delay your progress is fear of the water. But the more you are able to get in the water the better you become
Do you offer scholarships?
Yes, we occasionally offer partial scholarships based on availability of funds. Scholarships are need based. And you must apply to be considered. However, applying does not guarantee approval. CLICK HERE to complete the application.
Do you offer discounts?
Yes we do offer discount to our official ME members. The amount of the discount depends on your membership levels:
Supporter Member  – 5% discount
Sustainer Member – 10% discount
Legacy Member – 15% discount
Discount codes can be found in the member portal. Discount codes must be used at the time of registration.
If you have 2 or more family members from the SAME household participating in the swim program. The first person pays full price and each additional person receives a 10% discounts.  The members must be from the SAME household not cousins or friends.
Are boys allowed in the program?
Boys under 7 years old are allowed in the program.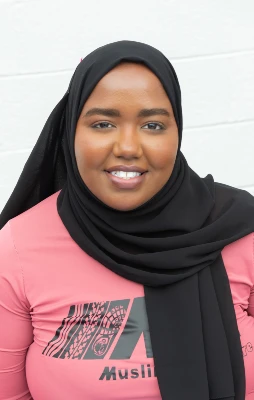 ALAA ABDELRAHMAN
Membership Coordinator
Questions about swim program? Email Alaa at membership@muslimahsendure.org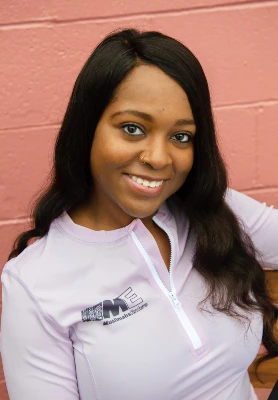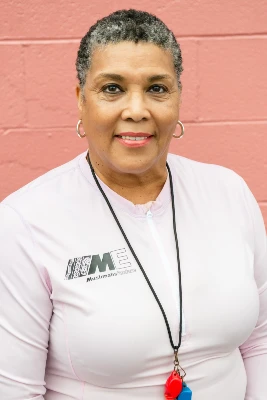 GWEN RHENWRICK
Lead Instructor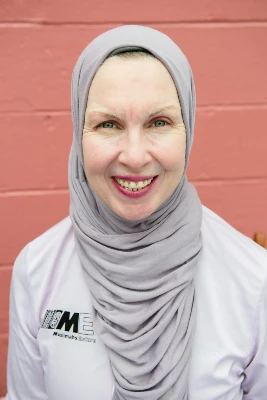 SIOBHAN O'BRIEN
Instructor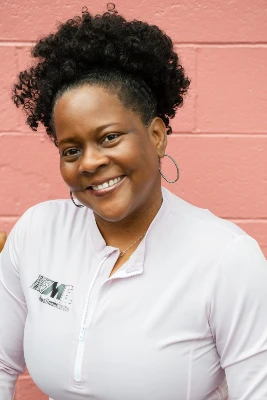 LATIFA ELHADDARI
Instructor
RASHEEDAH SHAKOOR
Instructor
ZAINAB SIDDIQUI 
Assistant