Membership Level
Sister Helping Sisters
Muslimahs Endure is dedicated to providing an environment where Muslimahs feel comfortable and safe pursuing an active lifestyle without compromise. Our non-profit organization centered around activities that encourage Muslimahs, both youth and adults, to start and continue an active lifestyle regardless of ability or fitness level.
Join the Sisterhood
Your membership helps us to continue to empower women and their families to lead healthy and active lifestyles. Together we can build strong, healthy, and active communities.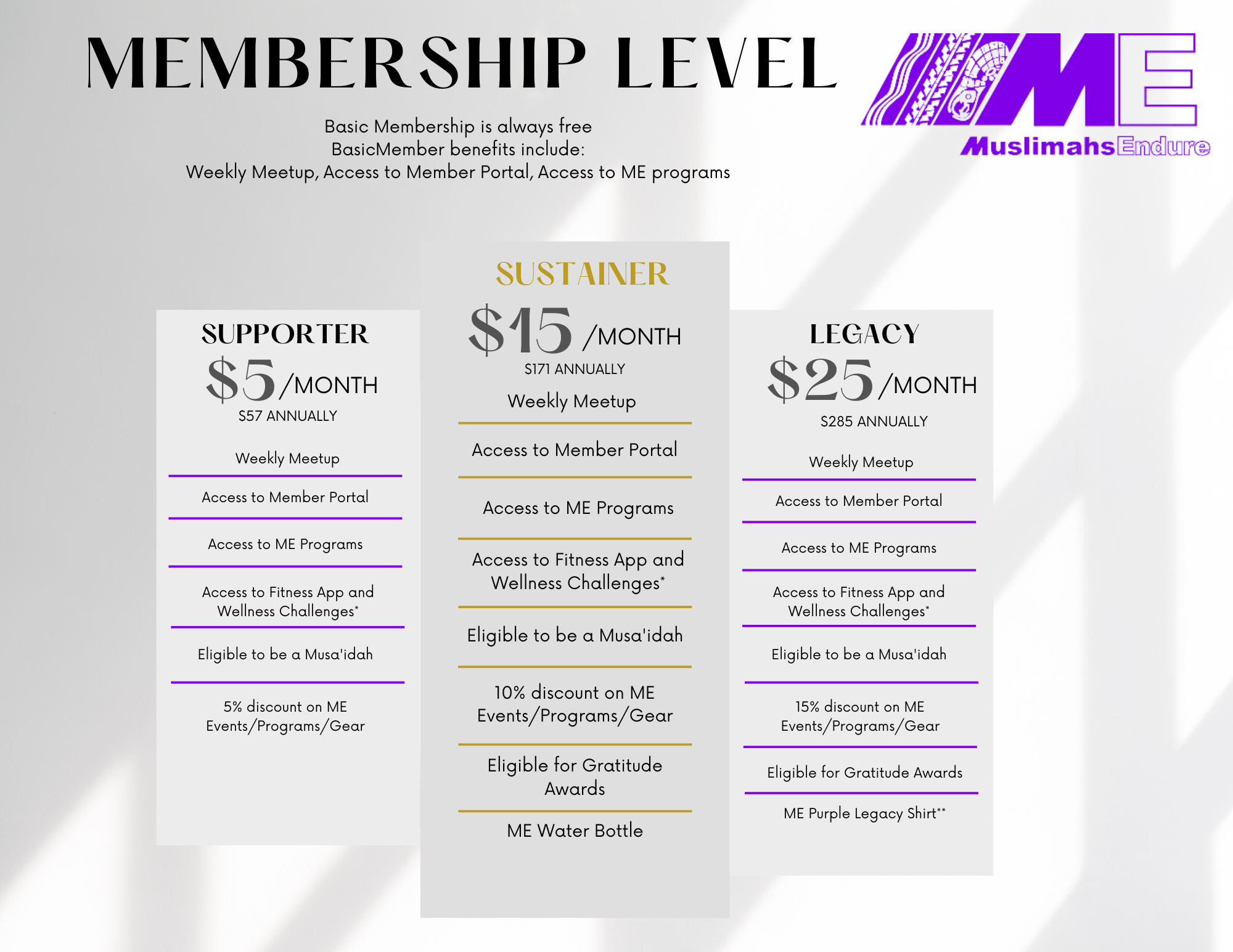 *Women Only Access
**Shirt will be available after 3 full months of membership or immediately with annual membership
Weekly endurance meetups for walking, running, and cycling lead by our Musa'idahs(supporters, aide, helpers). Find a weekly meetup near you or consider becoming a Musa'idah.
Access Muslimahs Endure membership account information and transaction history such donations, event registrations, memberships, store purchases. 
ME offers varous programs to help build strong, health, and active communities. Access to these program reguires ME membership. Select that fit your budget and reflects the impact that ME has made in your life.
Access to Woliba Fitness App & Wellness Challenges
ME has teamed up with Woliba to offer you a guide to Work Life Balance. Using this robust fitness app you will have access to wellness challenges, live & on-demand events, fitness tracker, leaderboard, wellness knowledge, and social feed to connect with your sisters, and much more. AND earn points for it all! 
Eligible to be a Musa'idah
Musa'idah are our supporter, aides, and helpers. They are the backbone of our organization. Musa'idahs are a dedicated volunteers that lead our weekly meetups. The more you support your community the higher your Musa'idah level. Interested in becoming a Musa'idah? Complete a Musa'idah Interest Form.
Discounts on Events/Program/Gear
Earn discounts on all ME hosted events, programs, and gear. Your discount amount depends on your membership. Must be logged into your membership portal to redeem.  
Represent ME with your one time branded ME gift. 
Sustaniner Member receives an ME water bottle
Legacy Member receives a purple ME Legacy Shirt
Eligible for Gratitude Awards
At the end of the year, Gratitude Award awards are giving to acknowledge members in certain categories:
Miles Beast
The member with most miles for the year
Solid Stepper
The member with the most steps for the year
Busy Bee
The member who burns the most calories
Mindful Mover
The member who earns the most fitness points
Social Butterfly
The member who earns the most social points
Power of One
The member who received the most peer recognition
Wellness Seeker
The member who earns the most wellness points
WOW
Woman of Wellness The member who earns the most total point overall
Positivity Queen
The member who gave the most peer recognition
Culture Champion
The member who most exemplifies ME Guiding Principles as recognized by peers
Ever Enduring
The member who participated in the most challenges and ME events.
Member of the Year
The member who embodies Muslimahs Endure
Sisters helping sisters lead a healthy and active lifestyle