February Strength Challenge
February 14

-

February 28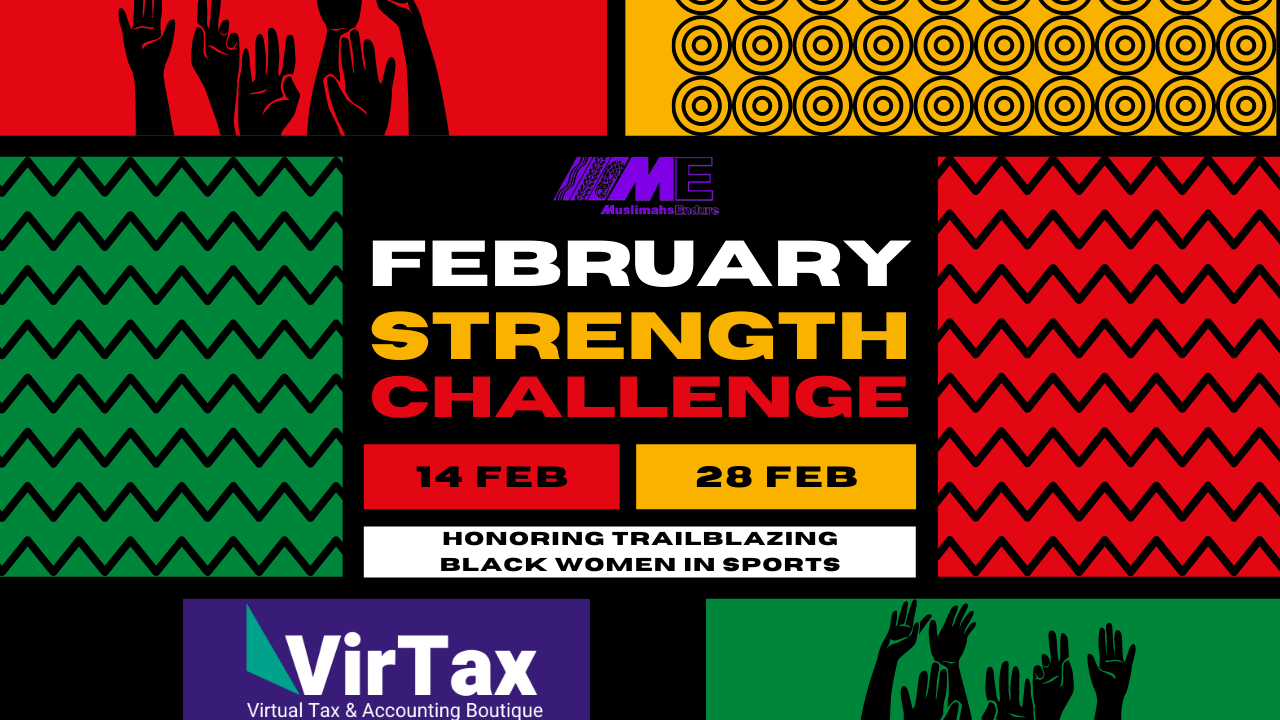 When it comes to endurance sports: running, walking, swimming, and cycling, you have to be strong! Both physically and mentally. While the weather is still cold, let's spend some time getting strong by concentrating this month on strengthening our muscles so that we can perform better and we can inshallah avoid injury. Inshallah we will be ready to take on running, walking, cycling, and swimming come the spring!
February is also black history month so we will spend some time honoring some dope trailblazing black women in sports history. They were/are both strong in body and strong in mind.  May Allah give us strength to do the hard things that are beneficial! LETS GOOOO!!!
HOW IT WORKS:
Step 1: Register for the challenge by clicking the RSVP.
Step 2: Become an official ME member (if not already a member) to gain access to our ME social network where the challenge will take place. There are various ME membership  levels to choose from.
Step 3: Complete assigned daily strength training workout that honor trailblazing black women in sports. The workout video or daily exercise will be posted on the activity feed.
Step 4: To earn points, you must comment below that daily post. Comment can simply be DONE or you can comment your thoughts on the workout or who we are honoring that day. But you must make a comment to earn your points.  There will also be opportunities to earn bonus points by completing additional task.  As always the goal is consistent intentional movement daily!!!
HOW TO WIN:
Be an official member of ME of any membership level. Join the Sisterhood.
Complete the assigned daily workout.
Comment below the daily post in the activity feed to earn points.
Complete any bonus task assigned to earn bonus points.
Participants with the top 3 highest score wins.
In the case of a tie our winners will be randomly selected.
PRIZES:
First Place:

$50 off tax preparation

Second Place:

$20 off tax preparation

Third Place:

$10 off tax preparation
All 3 winners receives a year subscription to Master Class. There is currently a dope Black History Freedom and Love Series taught by some of the most influential black voices of our times.
SPONSOR: