April Ramadan on the Move Challenge
April 11 @ 12:00 am

-

April 30 @ 11:59 pm

EDT
Event Navigation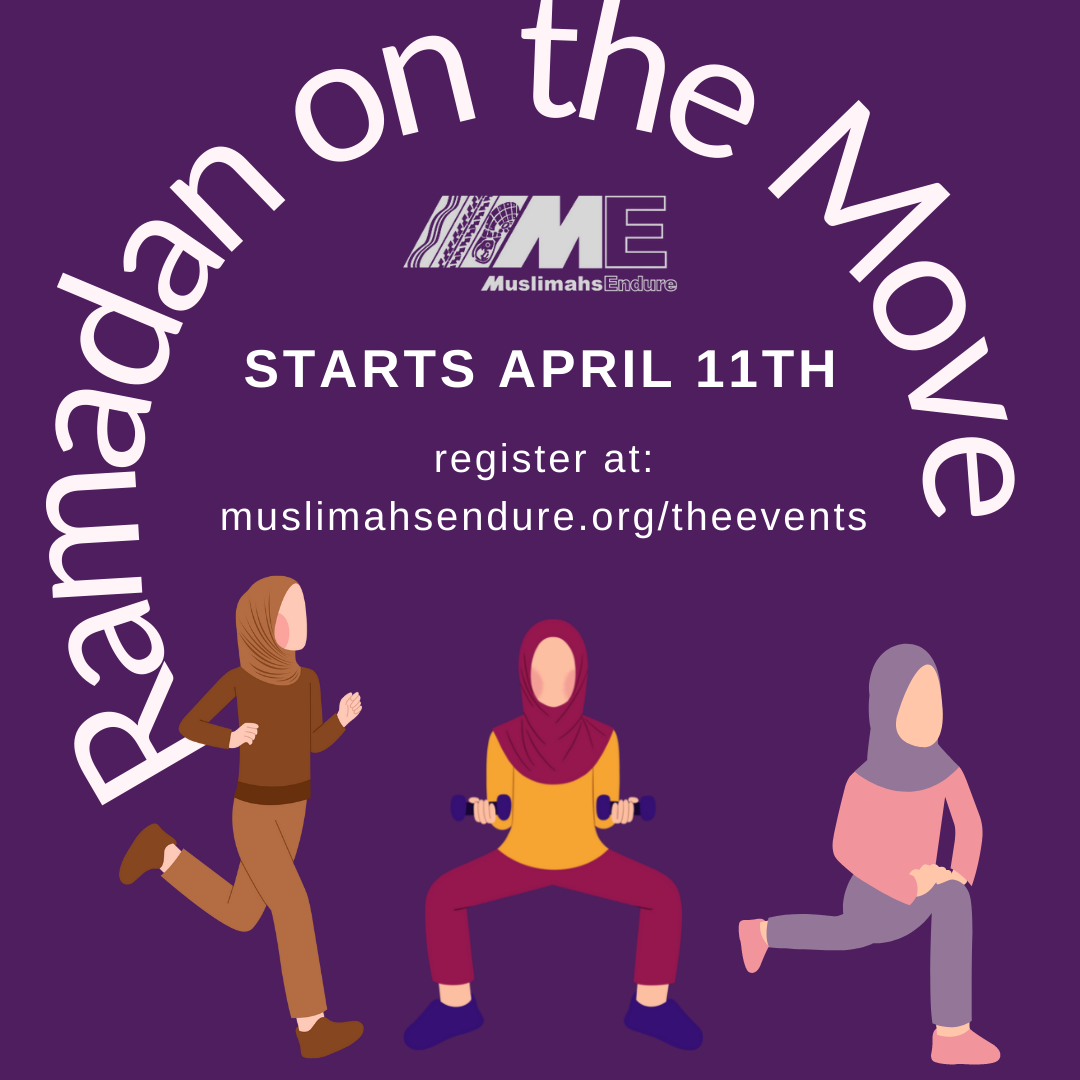 Ramadan Mubarak!!! Ramadan is here and we are praying for a blessed Ramadan that will inspire you with courage and strength that will help you win every challenge!
While in this month as we fast, we may have a little less energy, we should NOT completely leave off engaging in physical activity. However we do recommend you maybe decrease the amount of time spent, decrease the intensity or change the time of day to before suhoor (I know y'all looking crazy right now) or after Iftar. This month challenge like always is about small things done consistently! So this month we challenge you to complete a minimum of 15 min workout per day!
How does it work?
Become an official ME member by selecting one of our membership levels.
RSVP below for this event.
Follow the instruction received in email to join the challenge on Challenge Hound
Once the challenge starts on April 11, 2022, complete a minimum of 15 minute "workout" each day for the duration of the 20 day challenge. Workout can be Runs, Walks, Hikes, Rides, Rows, Elliptical, Swims, Inline Stakes, Skateboards, Nordic Skis, Roller Skis, Handcycle Sessions, Stand Up Paddles, Workouts, Weight Training Sessions, Yoga Sessions, Meditation Sessions, Tennis Sessions, or Ice Skates
How to log activities?
 All activities are logged  into Challenge Hound
You can connect an App listed on the Apps page and activities will be automatically synced to Challenge Hound. Challenge Hound currently supports Garmin, Under Armour (Map My Run, Map My Walk, Map My Hike, Map My Ride, etc), Fitbit, Coros, and Strava.
If you connect an app, Challenge Hound will automatically sync applicable activities, so there is no need to manually enter. Whether you manually enter or use an App, you'll receive an email notification with your challenge status after each activity you log. You can visit Challenge Hound to view your personal challenge dashboard, as well as full challenge leader boards and charts.
How to win?
Must be an official member of ME by selecting one of our four membership levels.
Complete a daily workout for a minimum of 15 minutes  by April  30, 2022
Prizes
All members to complete challenge will receive a inspirational bracelet
Sponsor
Donations
Everyone deserves access to swim lessons regardless of religious belief.  Muslimahs Endure women only swim program provides just that…access to a safe environment for women and their children to learn a life saving skill. But access should not only be limited to those that can afford it. Help us raise the funds so that we can do the following:
Provide scholarships to 100 women and their children so no one will be excluded.
Swim instructor training.
Lifeguard recruitment
We are hoping to raise $5000. Consider donating today!
Eid Gift Exchange